CarGurus: The horizon is murkier, but this stock is still cheap (NASDAQ: CARG)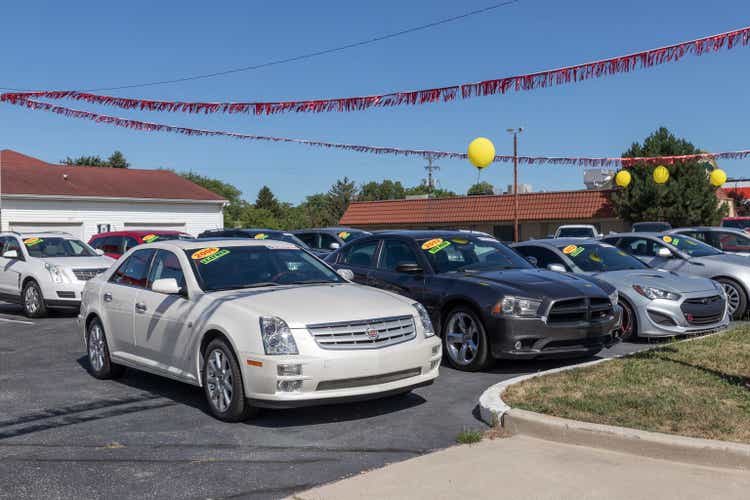 2022 has not been kind to CarGurus (NASDAQ: CARG); in fact, the entire period of the pandemic has been a challenge for this unique high-flying internet growth stock. CarGurus, one of the best-known sites for finding used cars and a critical marketing partner for used car dealerships across the United States, continued to battle sluggish dealership activity and recover to previous levels of profitability, particularly as direct-to-consumer alternatives like Carvana (CVNA) and Vroom (VRM) has exploded since COVID.
Since the start of the year, CarGurus shares have lost more than 30% of their value; and compared to highs above $50 reached earlier this year in February, the stock has lost more than half of that high.
Bullish and bearish theses are now more balanced
I will admit that I was a bit too eager to buy CarGurus on the downside, and the trade produced stinging losses. Amid the new information the company shared with its first quarter earnings release, I'm a little more hesitant about CarGurus' fundamental story. Given the additional risks (but also bearing in mind the steep fall in the share price since the start of the year), I move my recommendation on CarGurus to Neutral.
At this point, I see the stock as a mix of positives and negatives. On the positive side:
CarGurus has established itself as a must-have for car dealerships. Even before adding CarOffer and Instant Max Cash Offer, CarGurus has long been viewed by dealerships as a necessary partner due to the amount of web traffic flowing to its site nationwide. By adding the possibility for dealers to to buy cars via the CarGurus network also, CarGurus has effectively just doubled its share of wallet in the used car industry.
CarGurus generates the kind of recurring dealer revenue that Wall Street loves. As the auto dealership industry continues to recover, CarGurus will continue to enjoy a steady stream of fee income from these customers. The average quarterly revenue per car dealership also continues to rise.
On the other hand, however, new risks have emerged:
Can CarGurus properly scale its new initiatives? CarOffer and Instant Max Cash Offer dramatically increased CarGurus' scale, at the cost of its profitability. These revenue streams may become more profitable as they evolve, but for now, they're squeezing margins and producing the downward EPS forecasts that Wall Street is eyeing.
Can CarGurus.com maintain consumer dominance? The declining traffic trends compare to a tough 2021, but we want to see CarGurus continue to grow its site audience.
Now let's take a look at each of these new risks in turn.
Margins are down and EPS estimates are well below expectations
One thing is certain in the 2022 market: investors care much more about profitability than growth. Over the past year, CarGurus has created two new revenue streams for continued growth to complement its in-market business. Its acquisition of CarOffer expanded its dealer-to-dealer network and gave CarGurus a direct automotive sales business that complemented its existing services for automotive dealers. The Instant Max Cash offer, meanwhile, allowed website visitors to immediately unload their cars at participating dealerships.
The downside here: lower margin revenue streams, as well as absorbing all of CarOffer's operating costs. In the first quarter, CarGurus reported a pro forma operating margin of 14%, half its operating margin in the first quarter of last year.
Now the company has increased its profits again, but at a fairly modest pace. Pro forma net income increased 19% year-on-year to $42.9 million, while EPS also increased 9% year-on-year to $0.36.
The outlook for the future, however, gave investors some pause. The company expects a sequential decline in pro forma operating income as well as EPS (despite sequential revenue growth):
The EPS outlook of $0.26 to $0.29 is well below the $0.38 expected by Wall Street. Since CarGurus' valuation metrics have largely shifted to earnings-based ones, this downward trend has resulted in a huge revaluation of CarGurus' shares.
Revenue fundamentals also show signs of slowing
It is not only the decline in profitability that worries investors: we also have to pay attention to the decline in traffic behavior. The biggest appeal of CarGurus is that it's the #1 site for consumer research on used cars. But now the company reports that site visits are down:
As shown above, the average number of monthly visitors is down -15% year-on-year and the average number of monthly sessions is down -6% year-on-year. Continued inflation in used car prices, as well as soaring gasoline prices which will further weigh on the second quarter, will be the main factors influencing the slowdown in used car demand.
Outside of the consumer space, the wholesale business (CarOffer) is also starting to show signs of risk. According to remarks prepared by CEO Jason Trevisan on the first quarter earnings call:
Two factors resulted in relatively softer dealer wholesale behavior in the first quarter. First, dealers saw wholesale prices begin to decline throughout the first quarter; and second, retail consumer demand continued to moderate due to historically high prices, rising auto loan rates, inflation and delays in tax refunds. Nonetheless, our dealer-to-dealer business generated $105 million in revenue in the first quarter, growing approximately 12% quarter-over-quarter and more than 575% year-over-year. »
As CarGurus' key growth drivers head south and margin trends also weaken, it's clear to see why nervousness is mounting.
Valuation and key takeaways
All that said, though – there's plenty of pessimism in CarGurus' stock already. At the current share price near $24, CarGurus is trading at just one 14.8x front P/E multiple versus FY23 EPS consensus estimate of $1.61. FY22 should be the trough year for earnings ($1.36 consensus EPS) before returning to growth, which is entirely doable if CarGurus can optimally scale its new sales leg in big.
The bottom line here is: CarGurus is cheap, but it's also cheap for a reason. Unfortunately, I don't see CarGurus as having any easy short-term catalysts to pull it out of its current slump; and for this reason I prefer to pass aside.