Is professional sport worth watching without crowds in attendance?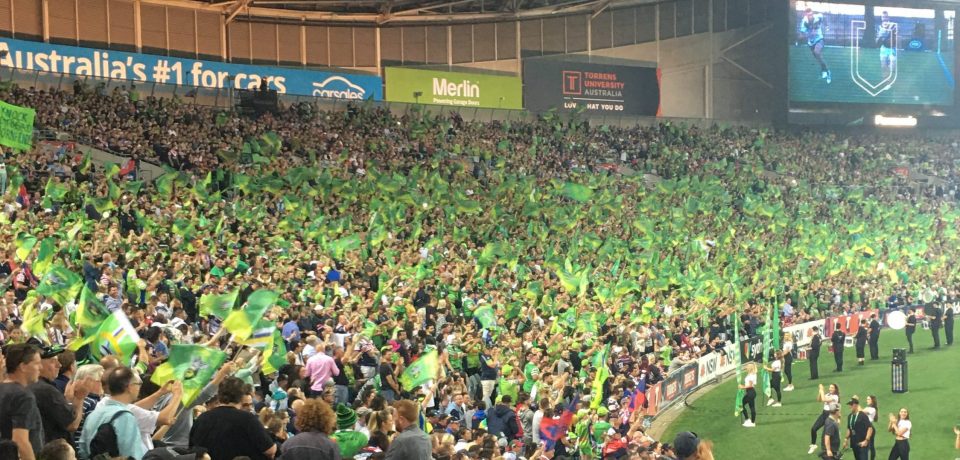 Major sport is about to resume in Australia in front of empty stadiums. Do we need cardboard cut-outs of fans and piped noise to provide atmosphere?
As the Raiders run out onto the field in Melbourne to play the Storm on Saturday night there will be one vital ingredient missing which makes sport at this level so compelling: a crowd.
On paper, it will look like a regular, potentially high-quality NRL game but the absence of a crowd will diminish it as a spectacle.
I am speaking from experience, having called events at the Commonwealth and Olympic Games where there were more officials, athletes and media than spectators.
A number of events at the 2010 Commonwealth Games readily come to mind where no spectators came along to cheer on the competitors. Even rowing at the Olympics during the minor finals and the early rounds of tennis at the Olympics did not attract a significant audience.
As a commentator it is much harder to call sport without spectators. They effectively provide an extra commentator, adding atmosphere, hype and character to an event.
Weekly Newsletter
We package up the most-read About Regional stories of the past week and send direct to your inbox every Thursday afternoon. Subscribing is the easiest way to keep up, in one hit.
You can only imagine what it must be like for the athletes themselves to see an empty stadium. They are essentially performers without an audience in attendance.
The Raiders have spoken many times about the value of the crowd in lifting them to a new level, akin to having an extra player on the field when it comes to generating energy within the team.
It would appear that for a fair portion of this season at least, they will have to look for inspiration elsewhere.
Will spectators watching the game from the comfort of their lounge rooms or listening on the radio feel a loss of hype because of an absent stadium audience? It could have the atmosphere of a NSW Cup or under 20s game played in near-empty stadiums.
Or will fans be simply grateful that there is sport to watch after months of what amounts to sporting 'cold turkey'?
In other parts of the world where sport has resumed in crowd-less stadiums, extreme measures have been put in place to generate atmosphere.
In Taiwan, baseball resumed with no crowds but with cardboard cutouts mimicking spectators and robotic drummers to create noise. It was surreal and almost comical. FC Seoul has apologized for placing sex dolls in place of fans in an empty stadium.
I am predicting when the NRL resumes this week it will be staid in comparison to the usual scenario. While the product on the field will be good, in the back of the minds of many there will be sense that something is essentially missing.
Original Article published by Tim Gavel on The RiotACT.