MFS a revolution for remote areas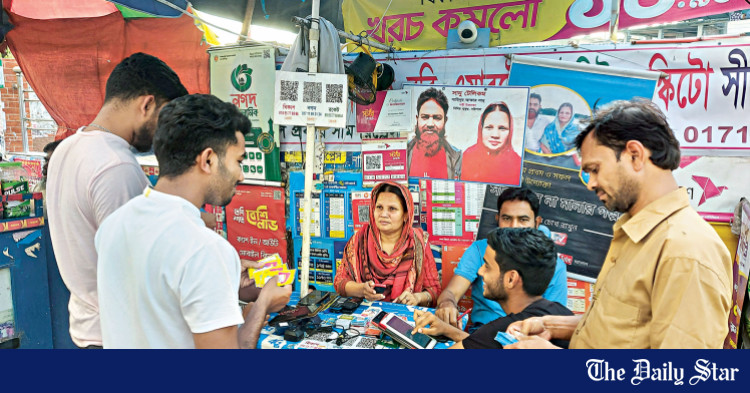 Mobile financial service providers employing 11.23 lakh agents across the country record an average daily transaction of Tk 2,300 crore. The picture was taken from Sadar Road in Barishal town yesterday. Photo: Titu Das
">
Mobile financial service providers employing 11.23 lakh agents across the country record an average daily transaction of Tk 2,300 crore. The picture was taken from Sadar Road in Barishal town yesterday. Photo: Titu Das
Ten years after the advent of Mobile Financial Services (MFS), more than 11 crore account holders are now making 2 crore transactions daily.
Dutch Bangla Bank first appeared in March 2011 with its "DBBL Mobile", later renamed "Rocket". Brac Bank came second in June 2011 with bKash. A year later, the duo had only 4 lakh customers.
Today, MFS operators record Tk 2,300 crore in average daily transactions, employing 11.23 lakh agents.
These data from Bangladesh Bank would have been higher if those from Nagad could have been included. Launched in 2019, the MFS branch of Bangladesh Post Office has not yet obtained a full license.
The services available have grown gradually.
It is now possible to top up mobiles, pay in stores and e-commerce platforms, utility bills and various educational institution fees, transfer money between banks, send remittances , to receive scholarships and many more.
In a major move, bKash and City Bank have offered the country's first instant, collateral-free digital nano-loan.
Safety net disbursements were also launched in May 2020 just after the outbreak of the pandemic. In 2021, this money stood at around Tk 14,000 crore.
"…during the pandemic…from megacities to remote areas, low-income people have benefited," Atiur Rahman, former governor of Bangladesh Bank, said yesterday.
"…our goal was to ensure low-cost, accessible digital financial services for low-income people living in remote areas," he said at an event.
Unayan Shamannay and Knowledge Alliance organized the event at the former's premises to share the results of a study on 10 years of MFS in Bangladesh.
Low-income customers in char areas have opened MFS accounts in large numbers amid the pandemic to benefit from government cash transfers, according to the study.
This was mainly due to the government's decision to send cash transfers through the MFS.
As a result, the confidence of char customers has increased significantly and people in remote areas are increasingly paying their electricity bills and receiving funds through the MFS, he said.
Khondoker Sakhawat Ali, founder of Knowledge Alliance, said half of MFS accounts remain inactive, as many were opened primarily to receive cash transfers.
He said operators need to find ways to encourage the use of these accounts for other purposes.
"It is entirely possible to move towards a 'cashless society' through effective use of MFS," said economist Ahsan H Mansur.
In another event at a hotel in the city to celebrate the MFS decade, Abul Kashem Md Shirin, Managing Director of Dutch Bangla Bank, said fees for withdrawing funds will decrease once agent and distributor commission is reduced .
He said the platform made up of the 13 MFS vendors who hosted the celebration should find a way to reduce service fees.
The 13 are bKash, Rocket, mCash, upay, Trust Axiata Pay (tap), MY Cash, TeleCash, Tap 'n Pay, FSIBL, Rupali Bank, OK wallet, Islamic Wallet and Nagad.
Kamal Quadir, managing director of bKash, said transaction cost was not an issue for customers, but what mattered was getting instant service.
He sought political support from the government to take the MFS to the next level.
Bangladesh Bank Governor Fazle Kabir said there needs to be healthy competition among the 13 MFS providers. He valued them by making services available in remote areas.
"Financial inclusion is inclusive economic development and MFS plays a vital role for financial inclusion," he said.
He called on MFS operators to avoid propaganda against each other to ensure adequate competition.
Education Minister Dipu Moni said MFS providers are making life easier and improving livelihoods.
She said thousands of students were receiving stipends through the MFS, which encouraged mothers to send their children to school.
Minister of State for ICT Zunaid Ahmed Palak said the government has a plan to bring everyone to cashless transactions.